Invest with TEB! Loan up to €200,000 with preferential terms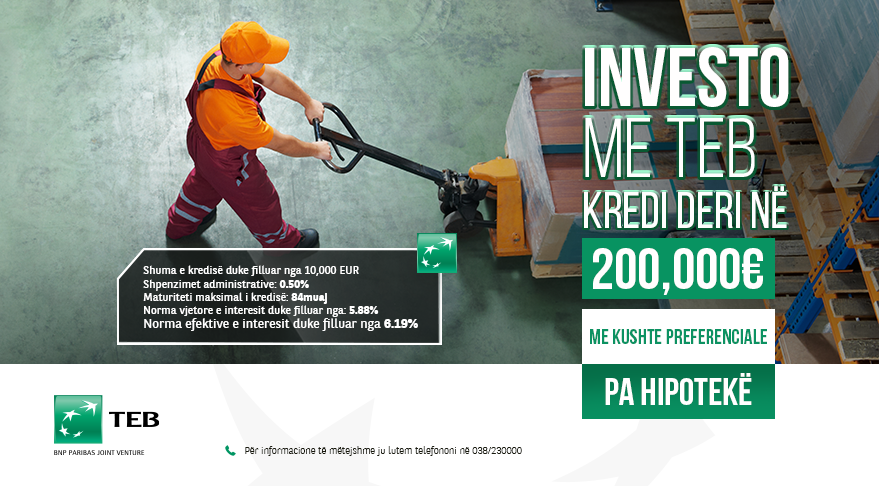 TEB Bank aims to support businesses in expanding their capacities through investments and development of their business activity.
Who can apply for a loan?
All small and medium businesses operating in the Republic of Kosovo.
Campaign benefits:
• Loan amount starting from 10,000 EUR
• Administrative expenses: 0.50%
• Maximum loan maturity: 84 months
• Annual interest rate starting from 5.88%
• Effective interest rate starting from 6.19%
What do you need to apply?
• Valid identification document (ID Card, passport or driving license)
• Your business documents
Additional documents that may be required based on the value of loan:
• Co-borrower
• Guarantor
• Mortgage: Possession certificate and copy of plan (not older than 6 months)
• Car registration certificate (the car must not be older than 12 years)
Loan example:
Loan value: €200,000
Loan installment (first year): €999
Installment after the first year: €3,300
Total interest paid: €49,530.02
Administrative expenses: €1,000
Total loan amount: €250,530.02
For more information, please contact the Call Center at 038 230 000, Facebook /messenger (TEB Sh.A), Instagram (TEB Sh.A.).
TEB, Bank for a changing world!