THE BANKER 2016
TEB JSC is affirmed the Bank of the Year 2016 by "The Banker"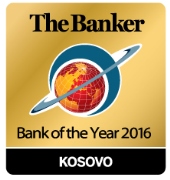 For the second year in row the prestigious British magazine gives the highest rating to the TEB Bank for the banking system in Kosovo. The work and achievements of the TEB Bank JSC for the year 2016 were also awarded by the prestigious magazine "The Banker".
"The Banker", which is a part of Financial Times LTD, has announced the TEB JSC Bank as the best bank of 2016 in Kosovo.
The rating by the bank reporting professionals from London marks another important recognition for the TEB Bank JSC and evaluation of the banking sector in Kosovo. This award reaffirms the Bank's ability to respond to different customer needs as well as their loyalty and trust towards the TEB Bank.
TEB JSC which started its activity in 2008 has made a significant contribution to the development of the country through its financial and non-financial activities and such an award is a high rating for the TEB Bank achievements.
As this Bank deeply believes in the principle of the slogan under which it operates, "The Bank for a changing world".
This has been the third and most important award this year for TEB JSC, following the award from Global Finance Magazine and Global Banking Alliance for Women.